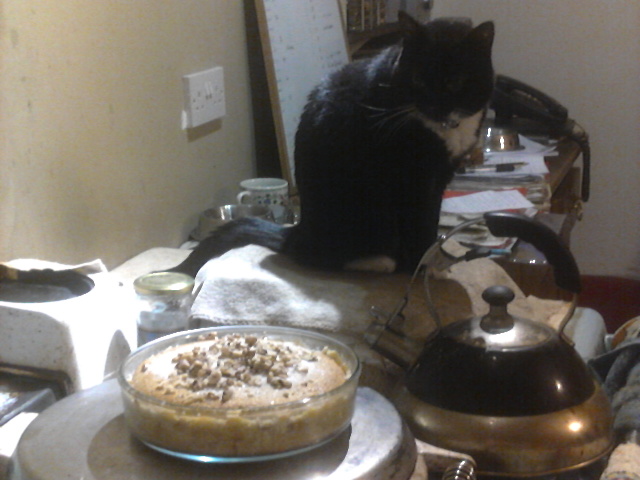 Some persons say cats and stove tops don't mix. Such Bodies of little discernment miss out on learning our Kitty recipes. Being an Aga stove-loving cat, i am in the perfect position most days to learn masses of delicious recipes. I thought I would share some of them with you.
My Mum loves crumpets, she says they are some sort of giant chew you stick in front of flames and burn. Funny things humans. Now she has had to give up having wheat on her dinner plate and she isn't allowed these things. Its winter and she was becoming sad, she said baking wasn't the same any more. She came back from her food-hunting trip really excited the other day. Some genius has made chews she can eat. So instead of just fetching those, she determined to find out how to make her own. I watched from my superior viewing point while she mixed up different grains and stuff from the big cupboard and some from the freezy one till she was smug, then she disturbed my repose to demand the Aga top back and singed her makings. She said they were pretty good, I had to take her word for it (the butter was fine) indeed she took some pictures (of me, of course, but I believe some of her baking was included too). I told her I would help her share her discoveries with you, so here you are:
Gluten-free crumpets
Start off some yeast: 1/2 oz fresh or 2 tsp dry with 1 tsp sugar and some of the 15 fl oz warm water. In a bowl mix 5oz corn meal (fine polenta), 3oz rice flour, 1oz potato flour, 1/2 oz tapioca flour, 1/2 oz soy flour, 1 tsp xanthan gum, 3 Tbsp (rape) oil, 1 tsp vinegar, 2 tsp GF baking powder. Add the yeast mix and the rest of the water to a thick batter. Leave in a warm place (if you can ease your kitty away from Aga for long enough, the back of the stove is great, but then again what self-respecting mog parts with her best bum-warmer? Do what you can, it may take longer.) Leave the mix to rise till really bubbly. Longer than you think you should, the bubbles are the best bit. Then lightly oil a skillet/ dry frying pan/ girdle using oiled 2 1/2 inch rings to contain them if you want thick crumpets, else cook like scotch pancakes till bubbles pop, then turn over and sear the other side. Serve hot with butter. And remember to pay your kitty butter-tax first. That's when kitties like me demand a cut of the gold stuff as you take it from the cold store. Its good for our coats, look at mine and I am 19 years old they say. I always insist on my daily ration. Enjoy, and pass the butter dish….