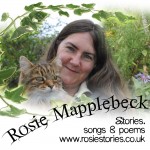 I was fortunate enough to make a trip out to the distant islands of the St. Kilda group this month, 80km west of the Outer Hebrides. Its long been a goal for me. It felt like a gentle homecoming, even if the sea was not so gentle!
To sail with the winds, meet the seabirds in their true element, watch dolphins dance the crests of the waves and smell the gannetry in all its guano glory was truly astonishing. My mind was full before we ever toured the stacs and met the breeding birds. The flora on Hirta, the inhabited isle, is a micro-botanists dream. Soay sheep, probably the most studied group of sheep in the world, nibble neatly along the old field sites. They are lightweight and do little damage compared to mainland breeds. These are sheep as our bronze age ancestors knew them.
I wrote a dream poem about The Rock 2 years ago. The 'mailboats' (once the emergency means of island to mainland communication) are still released from Hirta to see where the currents take them. Now they are of wood with a plastic float attached. Recent ones made it to Lewis in 3 days, or Iceland in 4months. Its a big variation and long time to wait for assistance.
The mailboat
"On this Rock but sheep and guga prosper
God's grace must see us through"
The fisherman bent his head, turned
his whittling in salt-cracked hands, offering
"In these lands we work with Manannan
the seasons; savour hardship, possibility"
He tossed the wave-gifted wood
to his ashen child. "She'll plot her own course
a bhalaich. We can't protect those at sea except by prayer"
"I must rigg her well", thought the boy, "to catch
the fairest winds, tack true, she'll need fine sails"
He decked her out with bone glue; woollen thread
a bottle of paternal wisdom; quietly sliced
their only tome at Mark; fixed flag then cork and smiled.
Barefoot, heart-grasping her: he sped to shore
where foam massaged her driftwood core
tugged her, fretful, painter eager
to loose. He, minding His fathers words, speaking dreams.
On platinum sands of lilac shell
lapped in sea-lettuce, tads of dulse:
wrappings for a beached and barnacled prism
waiting and waiting,    hands to bear
uncork,     pluck strings
fell mast,     ease out
a long lost sailor's salient prayer.
"Master, carest thou not that we perish?" And he arose and rebuked the wind and said unto the sea
"Peace, be still". and the wind ceased and there was a great calm. Mark 4:38